It's that time of the year again. Happy Blogtoberfest!
What is Blogtoberfest? Besides having the greatest name ever, it's a celebration of everything blog. A challenge to bloggers to step up their game, and a treat for readers to enjoy more artwork, more tutorials, more give-aways and general bloggy goodness.
This year, I have a new mascot, 
Blog Dog
. Isn't he cute?
Blog Dog and I are going to introduce a new feature to my blogtoberfest celebration. All month long, I'll be giving tips and tutorials on how to create a better blog. Look for Blog Dog in posts this month, he'll help you celebrate your blog!
Do you have a blog?
Join me in Blogtoberfest by grabbing the button for your sidebar. Instructions to add the button are at the bottom of this post.
Next step, blog about blogtoberfest! Let your readers know you're joining the challenge. Step up your game, set a goal, or just aim for a better blog. There are really no rules, just a commitment to have fun and Celebrate your Blog!
How to add the Blogtoberfest button to your blog sidebar (for blogspot):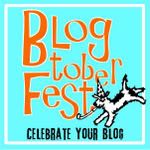 1.
Copy the text in the box below the button.
Double click in the box to make sure you get the entire code. Press "control c" to copy.
2. Open your blog dashboard. Click on "Layout."
3. Click on "Add A Gadget."
A new window will open.
4. Click on "HTML/Java Script."
5
.
Paste the code
that you copied from my blog into the bigger box. Leave the title blank. Click "Save."
6.  Enjoy
your new sidebar button! You can move the position of the button by dragging it up or down.
Join the Fun! Celebrate Blogtoberfest and add your blog to the list below. Scroll to the bottom of the list and click the "Click here to enter" link to begin.